Christina Myers
Baby Steps for Going Green
I hesitated to write this article. This post is not in my usual content category, but I've had several conversations on social media recently that led me to this post. The general consensus was that many people understand that we have a problem and can't continue treating our planet this way, and they WANT to help. But they have no idea where to start. Though I live in a beautiful, green state, being environmentally conscious isn't exactly easy to navigate around here. Most areas have no home recycling programs, public transportation options are limited, and it's almost impossible to walk or bike except in select parts of the city. To top it off, most of the folks I talked to had never been taught what can harm our planet and what we can do to combat that.
Meanwhile, I grew up with my nose in kid's science magazines that were, thankfully, very vocal on the topic of caring for the planet, with excellent articles and graphics on why it is important. I was also very close to my grandfather of mainly Native American descent. I spent most of my childhood summers with my grandfather, climbing trees, playing in the lake, and learning how to compost and care for the plants in his garden. I used to call them my "Indian Summers." Eventually, I graduated to reading Scientific American (and Discover, National Geographic, etc). In high school, I had opportunities to work alongside biologists who specialized in environmental damage. Lucky for me, my undergrad institution was big on environmental conservation, both from the student-led and professional perspective. So while I'm certainly no expert, I'm rarely surprised by the global catastrophes I see on the news. Sad? Yes, devastated. Surprised? Nope, because I've been keeping up for as long as I can remember (and consequently have spent a lot of time trying to persuade skeptics that we are in some hot water...literally).
So, if you're new to all this, and you want to know what you can do to help, keep reading. I'm just including some basic first steps here, starting with step one: GET OUTSIDE MORE. I firmly believe we would all care a bit more if we spend more time outdoors appreciating the beautiful planet we live on.
By no means is this an exhaustive list--but I don't want to overwhelm you. But the way I see it, the ripple effect is the smartest way we (regular people) can help make a difference. For example, if 100 people read this article, and 100 people stop throwing away 1 plastic cup/bottle per year, then in one year, that's 36,500 fewer items destroying our beautiful planet, (i.e. getting swallowed by whales, or taking over 1000 years to break down in a landfill, only to seep into the ground and continue contaminating our soil and water). Unfortunately, we've done irreparable damage to our planet. But if we all start taking baby steps, building on those, and pushing for change, we might have a chance. I recommend choosing one or two of these steps and starting small. Make them daily habits. In a few weeks, add another step. I tried to choose things that are simple and easy to implement in an "on-the-go" lifestyle, because I know we're all busy--nothing listed below requires a major lifestyle change like going vegan, but each tiny step can have an impact. By the end of the year, you could have the whole list checked off--imagine the difference if we all mastered the small steps?
Let's start with my Resolutioners. It's January, right? Time to get healthy? I'm all for it, but here are four easy ways to make your new fitness habit a little greener:
Buy a stainless steel or glass water bottle. You're increasing your water intake, which is AWESOME, but please don't do it by counting how many 16 oz water bottles you drink in a day. There are SO MANY brands to choose from, but my favorite stainless steel water bottles are from Hydrapeak. Glass is another environmentally friendly option, but a little too fragile for my crazy days. Feel like you need a straw? Me too! I have a whole collection of silicone & stainless steel reusable straws for my collection of water bottles (they come in different sizes), but more on that later.

Opt for glass meal prep containers. My personal fave is a good Pyrex or Anchor collection, but you can often find these in most supermarkets, and home goods stores/sections.

Reusable silicone snack bags are a must. If you're trying to control your portions, or you're just a snack-whore like me, you'll love these. Many are dishwasher/microwave safe, and they often come in cute designs (I'm a sucker for stuff like that).

Skip the disposable cutlery. Bonus points if you opt for bamboo.
P.S. On a budget? Everything listed above is regularly available at discount stores (Homegoods, TJ Maxx, etc), and there are tons of "off brands" available--no need to spend a small fortune (plus you'll save money in the long run!).
Cooking food at home will always be the most eco-friendly option, but we all eat out at some point, so let's talk about ways to reduce your footprint when you do: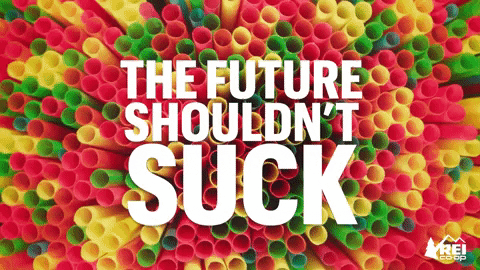 Take your straw and cup with you. There are awesome keychain/pocket-sized telescopic steel straws that you can take with you anywhere you go (Here's my favorite). You might be thinking that straws are pretty small, but let's revisit my math from the intro--anything helps! So, go straw-free or bring your own reusable straw. This might be the single easiest tip on this list. Some eateries and coffee shops will also let you bring in your own reusable cup, and often they'll give you a small discount for doing so! On the national level, both Dunkin & Starbucks do this, and many local coffee shops are willing if you just ask (or if you dine in, you can use a real mug!).

When you have the choice, choose reusable over disposable. Similar to the tip above, some places allow you to choose your plate or takeout container material. Whenever possible, choose the reusable option. When disposable is your only option, try to choose restaurants that either use recycled packaging, recyclable packaging, or both (hi, Chipotle!)!

When you're stuck with disposable items and there's no recycling option in the immediate vicinity, consider rinsing out any recyclable items and taking them home to your recycling bin.
When you're at the store:
Reusable shopping bags--simple. Get some, and remember to take them with you. If you forget, opt for paper and recycle them when you get home.

Buy package free products (hi, produce!) when you can, and buy bulk items (like dry goods) when available.

Avoid single-use packaging (see a recurring theme, yet?). Look for ways that you can reduce the amount of waste from your food packaging--it might be as simple as purchasing the larger container of Greek yogurt and separating it into your new glass containers for easy eating. Portion control, less waste, and saving money all rolled into one? Hard to beat.

When what you want only comes in single-serve packages (energy bars, etc), check the package for the TerraCycle symbol. Here's an example of how Clif Bar incentivizes you to recycle their packaging.

Cleaning products: these often have harsh chemicals and plastic packaging. Two steps:
Buy natural, biodegradable cleaning products as much as possible. Try brands like Method, Mrs. Meyer's, 7th Generation, etc (or hop on Pinterest and learn how to make your own!). This includes the sponges and tools you use to do your cleaning.

Choose refillable packaging and..you know..refill it.
Personal care: choose environmentally friendly options when possible. Try the Loop program listed below, or look for eco-friendly options in the personal care aisles (bamboo toothbrushes, hair and body products made of natural ingredients). They're often better for you as well as the environment.
Speaking of stores…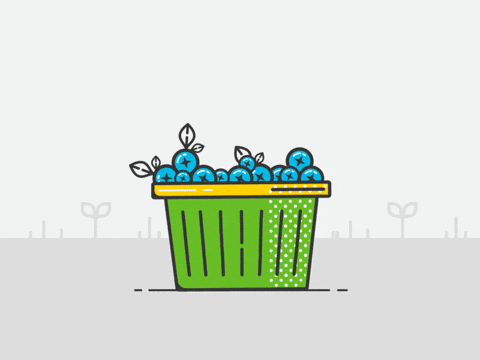 When you can buy something locally, do it! Find local farmer's markets and buy products grown or made locally. Your local grocery store might have apples from down the street, and some from Mexico. Buy the ones from down the street and request more local options.

I know we all love Amazon. Heck, I'm including an Amazon list in this article to help you out. BUT...try to purchase things locally when you have the choice. Even when the item you purchase is environmentally friendly, it still has to be packaged to be shipped and then loaded onto trucks and planes. I'm not asking you to stop buying from your favorite online retailers, I'm just asking that you think twice before you order something you could pick up a few blocks away. At the very least, consider shipping things to your local store for pick up.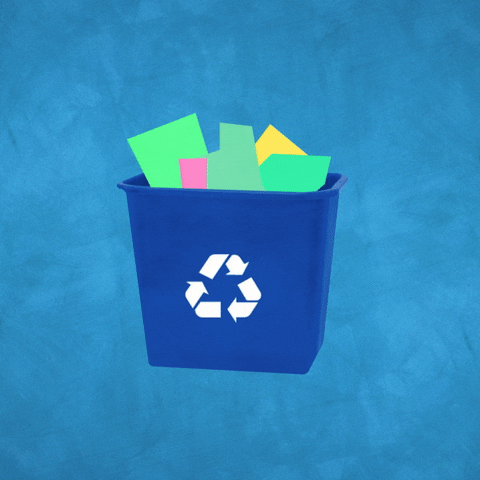 Recycling the "easy" stuff (most plastic, glass, paper, aluminum):
You have a couple of options here. First, check your local government websites & resources to see if you have home pickup options in your area. You can also just google recycling in your city. There may be a special bin you fill with your recyclables that can be picked up (like your regular trash). If it's not available in your area, or you live in an apartment, I've got you covered, keep reading. At my house, we have a reusable shopping bag style sorter. When it's full, I take it around the corner to Publix, which brings me to my next point:
Many grocery stores have started in-store recycling programs (Whole Foods, Publix, Target, and more). There are usually sorting bins located near the front of the store where you can place your items. Make sure your items are clean and dry, and put them in the right place! Plastics have types (look for a #), so double-check that your store accepts the types that you are bringing. I've got a solution for what they don't take, so stay with me.

Look up recycling centers in your area. You can usually find a center that you can drop off your recycling to, and depending on what it is and how much you have, they might even pay you a small amount (aluminum and other metals are often worth something). This is best for when you have storage space to make sure you have a pretty good amount of stuff to take in. Check the website of your local centers to see which items you can take to each center and if they have any restrictions.
Hard to recycle items (cosmetic packaging, electronics, hazardous etc):
Some things are more difficult to recycle due to the type of materials packaging is made of, and the contents of those packages. These items often have major impacts on the environment when disposed of incorrectly, so please take the time to learn how to properly recycle these items!
Batteries and electronics: Many electronics stores and stores that sell electronics will take these items back and recycle them for you (BestBuy, Target, etc). Earth911 has a really handy recycling locator that lets you search by item.

Cosmetics & personal care: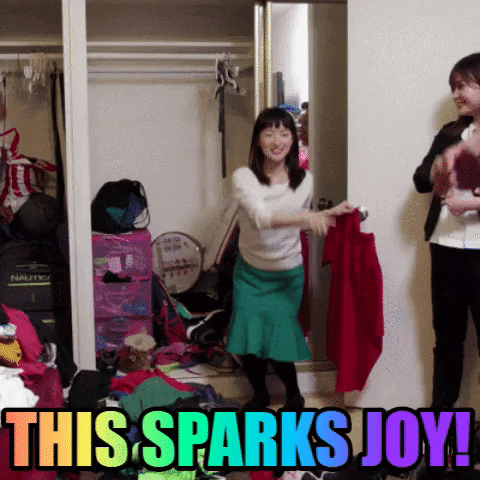 Around the house: Marie Kondo-ing your whole house this New Year? Donate what you can, of course. And what you cant? TerraCycle has a box for that! Check out their bedroom boxes.
Here's an Amazon list with a few of my favorite products to help you get started.
Ok, so what if you've tackled the whole list and you want more?
Here are my favorite Instagram accounts to follow:
Helpful websites:
Earth911. Huge resource for basically anything you can think of. Lots of helpful articles, instructions for how to recycle different types of items, and an awesome recycling center search tool.

TerraCycle. I highly encourage you to check out their recycling programs. They make it easy for you to recycle the tricky stuff. Use the website to sign up for the recycling programs that match the things you buy.
P.S. The gorgeous "Green Vibes Only" and "Respect Your Mother" images are digital artwork from my dear client Nicole Yost. (@nicolemeetswrld) She made two gorgeous wallpapers for your phone that you can download from her IG stories (for free). She's also selling her artwork and donating the proceeds to help with the fires in Australia.